We Are A Data-Driven Investment Bank Focused on Software and Tech-Enabled Services Companies
Solganick & Co. is an award-winning, independent technology investment bank with focused industry expertise and experienced M&A advisory professionals.
Delivering Deep Vertical Industry Expertise
With over $20B in M&A transactions completed, we impact your goals with efficient transaction origination and execution strategies in order to achieve maximum value for your business.
Using a proprietary approach, we provide intelligent, data-driven mergers and acquisitions advisory services to fast-growing and established software and IT services companies.
Transactions that Prove Success
Recently Completed Transactions
what our clients have to say
"Aaron Solganick was the M&A advisor to my recent transaction. His knowledge and experience in the IT services industry as well as the SAP services specifically was a tremendous asset to my transaction. He always focus on quality prospects and making sure that he brings the good match together. I appreciate his hard work, integrity, and high level of energy. I highly recommend Aaron and his team at Solganick & Co."
Paul Tran
CEO and Founder, Aptelis, Inc.
"Aaron Solganick is top-notch M&A professional. I have worked with Aaron on M&A activities and value his industry knowledge, expertise, professionalism, commitment to creating value for both buyer and seller in M&A transactions."
Michael Pearson
CEO and Founder of CONTAX, Inc.
"Aaron Solganick's application of a high standard of both ethics and integrity to our business in regard to potential acquisitions ensured alignment with our financial environment. I would highly recommend Aaron and his talented staff to assist with any investment or capital projects that a business would require."
Craig Montesanti
EVP and CFO of CU Direct Corporation
"I worked with Aaron Solganick and team during an M&A transaction for a company I co-founded. Aaron did a great job at packaging the company for sale and identifying potential suitable buyers. Him and his team worked diligently to help the founders achieve their goals for the acquisition and provide expert guidance throughout the process. I hope to work with Aaron again in the future."
Luke Marson
CEO of iXerv Americas, Inc.
Sell-Side M&A Advisory
Preparing your company, and managing the M&A process, including finding potential buyers and increasing value, to merge or to sell.​
Buy-Side M&A Advisory
Assisting in acquiring companies while identifying potential targets that are a strategic and financial fit.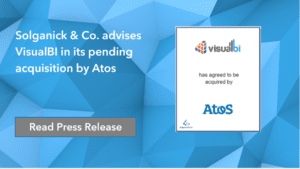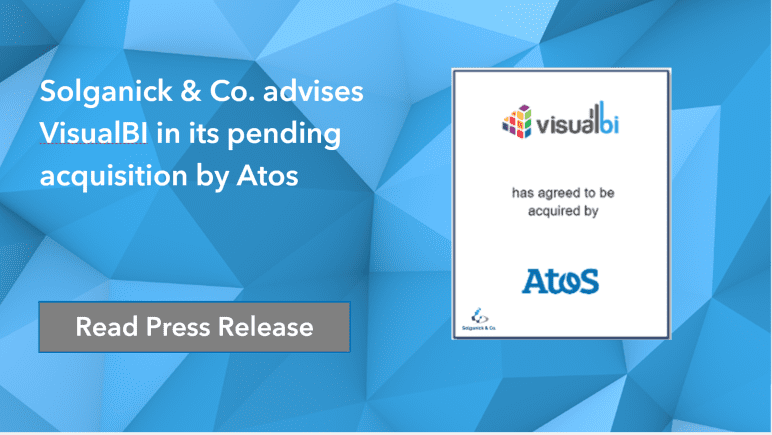 Paris (France), July 27, 2021 – Atos today announces it has reached an agreement to acquire Visual BI, one of the leading and fastest growing firms focusing exclusively on Cloud Data Analytics and Business Intelligence in the US. Visual BI is a Snowflake Elite partner, Microsoft Gold Partner for Data & Analytics and is an SAP partner. The company also supports the technology platforms from market leading partners such as Fishtown Analytics, Fivetran, Tableau, HVR Software, Qlik, Theobald Software and Alteryx.
Read More »
Subscribe to our M&A Updates