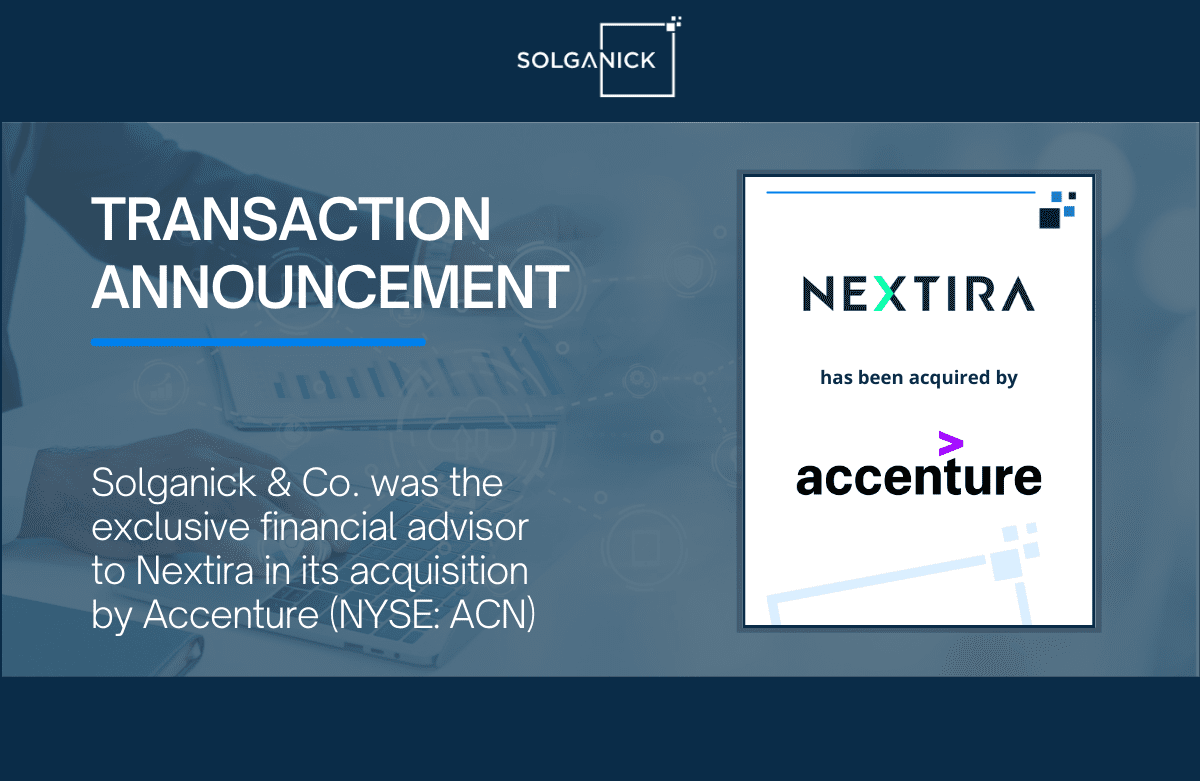 Solganick was the exclusive financial advisor to Nextira in its sale to Accenture
July 5, 2023
New York and Austin
Solganick & Co. ("Solganick") is pleased to announce the successful completion of another sell-side transaction in its Technology Services M&A practice. Solganick served as the exclusive financial advisor for Austin-based, Amazon Web Services (AWS) Premier Services Partner, Nextira in its acquisition by global IT services and consulting leader, Accenture.  Nextira leverages AWS to deliver cloud-native innovation, artificial intelligence (AI), machine learning (ML), predictive analytics, and immersive experience solutions for its clients in the gaming, media, and entertainment industry sectors. 
"Nextira's strong fit and natural alignment with Accenture was evident throughout the course of the process and we are excited to help support the team's future success in accelerating innovation and time to value for gaming, media and entertainment, artificial intelligence, machine learning, immersive environments, and other rapidly emerging applications. We enjoyed working with the full Nextira team on this successful and transformative transaction" according to Aaron Solganick, CEO of Solganick & Co.
 "We enjoyed working with the Solganick team on this transaction.  Their team has deep knowledge of the industry and an excellent understanding of the buyer universe and market.  Their professional advice and support throughout the deal process helped to ensure that the process went smoothly" said Jason Cutrer, CEO and Founder of Nextira.
Founded in 2008, Nextira's nearly 70 highly skilled employees will join the Accenture AWS Business Group, a team of more than 20,000 certified professionals dedicated to accelerating value on AWS to maximize enterprise-wide transformation at speed and scale. The Accenture AWS Business Group is part of Accenture Cloud First, Accenture's industry-leading business group focused on redefining how organizations operate and create value by using cloud, data, and artificial intelligence for total enterprise reinvention. Accenture Cloud First spans more than 130,000 cloud professionals from across Accenture with more than 124,000 cloud certifications.
Nextira builds cloud-based solutions and services with cutting-edge engineering skills, artificial intelligence (AI), machine learning, and data analytics that enable clients to design, build, launch and optimize high-performance computing environments. In addition, Nextira's proprietary Studio in the Cloud solution on AWS provides clients with a virtual environment to easily develop and render 3D objects using the latest rendering platforms.
For many organizations, cloud has become the new operating system, supporting all functions that are necessary in order to operate, innovate and thrive. Nextira's platform engineering expertise and AI and machine learning services will enable AI capabilities to be directly embedded into the rapidly growing number of applications and services built that are on AWS.
The transaction was led by Aaron Solganick, Cameron O'Leary, Sam DiSalvo, and Nico Brouwer of Solganick & Co.  Terms of the transaction were not disclosed and was originally announced on June 1, 2023.
For more information, please refer to the Accenture press release:
https://newsroom.accenture.com/news/accenture-acquires-nextira-expanding-engineering-capabilities-in-artificial-intelligence-and-machine-learning.htm
About Solganick & Co.
Solganick is a data-driven investment bank and M&A advisory firm focused exclusively on technology services and software companies. Founded in 2009 by experienced investment banking professionals, Solganick is a Los Angeles-based investment banking and M&A advisory firm that holds a longstanding reputation of providing measurable advisory value to owner-founders of established companies within the technology services, software, and healthcare IT sectors.
For more information, please contact us: [email protected]