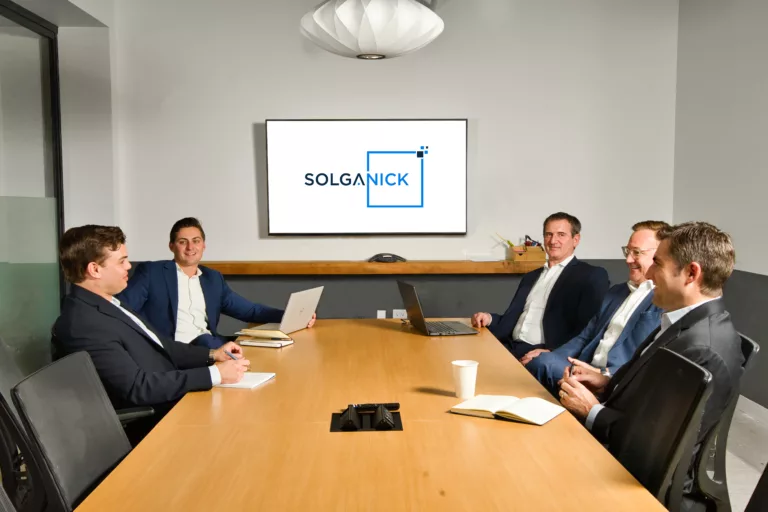 Who is Solganick, and what does your company do?

Solganick is a technology mergers and acquisitions (M&A) advisory firm specializing in software and IT services investment banking. We assist technology companies with strategic and financial M&A transactions and work with both buyers and sellers of companies. Our team of M&A professionals have experience in getting transactions completed, as well as deep industry domain expertise. We typically run a confidential and competitive M&A "auction" style process in order to maximize shareholder value and fit for our clients.
How can I contact Solganick for inquiries or assistance?
You can reach us through the "Contact Us" section on our website. We're available via phone, email, or by submitting an online contact form.
What services does Solganick offer to clients in the technology industry?
We exclusively provide M&A advisory services including buy and sell-side transaction services to technology companies, particularly in the software and IT services sectors. We do not raise capital for companies at this time.
Do you work with startups, high growth, and established tech companies?
We work with a wide range of clients, from high growth to established tech firms, helping them with their financial and strategic M&A goals. We do not currently work with start-ups at this time.
Do you work with companies based outside of the United States?
Yes, we have clients in the U.S. and around the globe including numerous strategic and financial buyers.
What is your minimum revenue and EBITDA size for new clients? What is your typical deal size?
For software companies, our minimum revenue size, or ARR, is $8M with breakeven or higher EBITDA.
For IT services companies, our minimum revenue size is $10M with $2M or higher EBITDA.
Our typical deal size ranges from $25M to $250M in total enterprise value.
What do you typically charge for your M&A advisory services?
Our fees typically include a monthly retainer fee and a transaction success fee paid at the closing of a transaction. We customize each project based on the complexity of each M&A transaction and charge based on the time spent, size and scope of the client engagement work. For more information or to receive a detailed price quote, please contact us.
How can I stay updated with the latest news and industry insights from Solganick?
You can subscribe to our M&A newsletter or check our news and research for regular updates, industry insights, and news related to technology mergers and acquisitions.
What makes Solganick stand out in the technology investment banking industry?
Our deep expertise within specific industry subsectors including (but not limited to) data analytics, artificial intelligence, cloud services, application partners and systems integrators, healthcare IT, fintech, legaltech, edtech, and other technology domains, a strong network of industry contacts, and a commitment to delivering customized solutions set us apart. We also use proprietary research and artificial intelligence (AI) driven databases to conduct comprehensive research on buyers and sellers of companies that best fit our client's needs. Solganick has numerous transaction case studies and client recommendations included on this website. The Solganick deal team has completed over $10B in M&A transactions to date. 
Can Solganick help with valuation for technology companies looking to sell or buy?
Yes, we offer valuation guidance and related services to help companies and shareholders make informed decisions during M&A transactions. We also help with negotiating valuations higher (for sellers). We do not provide valuation reports for public companies, however.
What licenses and/or certifictions does Solganick have to conduct business?
Solganick is registered in the State of Texas and the State of California as a business corporation. Several of its professionals have Master's degrees and certifications in mergers and acquisitions. Solganick currently relies on the United States Exchange Act: TITLE V – SMALL BUSINESS MERGERS, ACQUISITIONS, SALES, AND BROKERAGE SIMPLIFICATION, SECTION 501 – Registration Exemption for mergers and acquisitions brokers as updated by the U.S. Congress in 2023. For more information on this act, please go here.
Is my information safe when I submit it through your website?
We take data security seriously. Our website follows industry best practices and the latest legal requirements to protect your information. You can review our privacy policy for more details.
Technology Mergers and Acquisitions Industry FAQs:
What is technology mergers and acquisitions (M&A) advisory?
Technology M&A advisory involves strategic planning, marketing, negotiation, and execution of transactions involving technology companies in order to complete a merger or acquisition.  Solganick provides complete start to end advisory services related to acquiring or selling a company.
Why is software and IT services investment banking different from traditional investment banking?
Software and IT services investment banking specializes in technology-related M&A deals, offering expertise in a dynamic and specialized subsectors. Solganick is not a "generalist" investment bank and only works with clients in the technology sectors it specializes in (i.e. healthcare IT, data analytics, AI, cloud services, MSPs, etc.)
What types of companies benefit from software and IT services investment banking services?
Companies in the software and IT services industry, including SaaS providers, software developers, sytems integrators, IT consulting firms, VARs, managed services providers, and others often seek investment banking services focused specifically on industry experience to achieve growth and financial objectives. 
What are the typical stages of a technology M&A transaction?
M&A transactions involve various stages, including strategic planning, marketing, valuation, due diligence, negotiation, and closing.
How can a technology company prepare for an M&A deal?
Companies should focus on financial reporting and transparency, strong leadership, growth opportunities, reducing customer concentration, and a clear value proposition to prepare for M&A opportunities. The better prepared you are prior to starting a transaction process, the quicker and smoother it will go.
What factors should a technology company consider when choosing an M&A advisory firm?
Factors include industry expertise, track record, network, comfort with the deal team, and the ability to tailor services to the company's specific needs.
What role does due diligence play in technology M&A transactions?
Due diligence is a critical phase where both the buyer and the seller assess each other's financial, legal, and operational aspects to ensure a successful transaction.
What are the common challenges in technology M&A transactions?
Challenges can include valuation disputes, cultural integration, regulatory issues, deal structure issues including a poorly worded earnout, missing financial targets, due diligence problems, and securing financing. Make sure you are prepared and get the right help before you embark in an M&A transaction. Solganick will help you through this process and can recommend third parties to assist including M&A attorneys and accounting firms.