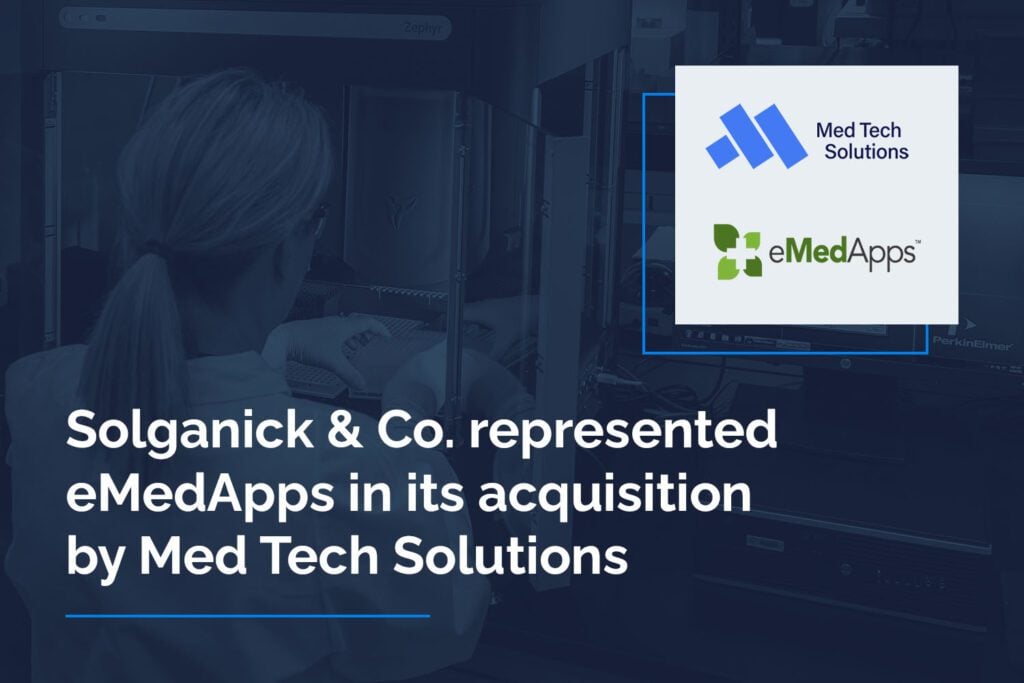 July 1, 2022 – Chicago, IL – Solganick & Co. was the exclusive financial advisor to eMedApps in its strategic merger with Medical Technology Solutions, LLC, a Sunstone Partners backed healthcare managed services company.
Founded in 1999, eMedApps serves over 10,500 healthcare providers across the U.S. The company offers a suite of integration, EHR downtime/archiving, Community Based Health Solutions, Patient Interaction solutions, Hosting solutions and professional services solutions that facilitate EHR transitions and deliver interoperability within and across healthcare enterprises and information systems. With over 20 years of experience integrating EHRs, eMedApps' expert consultants know what works and what doesn't, providing valuable insight to clients.
eMedApps combines vendor-neutral, patient-centric workflow, and comprehensive healthcare technology consulting experience to help healthcare delivery organizations meet business, regulatory, and patient care goals.
eMedApps provides hosting for EHR, Practice Management, and Revenue Cycle Management solutions and for any IT components or environments. Clients utilize secure, HIPAA-compliant data centers or take advantage of eMedApps-managed hosting services.  They are a certified NextGen consultant.
Medical Technology Solutions ("MTS") was founded in 2006 with headquarters in Valencia, California. The company supports customers and partners across the United States, and hosts its private cloud data centers in New Jersey and California, and is a NextGen partner. Sunstone Partners invested in Med Tech Solutions in 2020 and has made a few acquisitions to enhance its solutions offerings for its healthcare clients.
About Solganick & Co.
Solganick & Co. is a data-driven  investment bank and M&A advisory firm focused exclusively on software, technology services, and healthcare IT companies. For more information, please contact us.