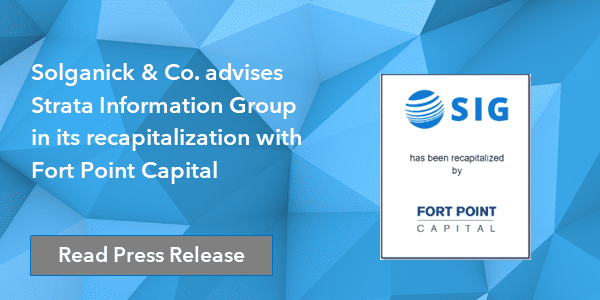 Fort Point Capital Invests in Strata Information Group, Inc.
June 22, 2021
Fort Point Capital, a Boston-based private equity firm, announced today that it has completed a recapitalization of Strata Information Group, Inc. ("Strata", "SIG" or the "Company") in partnership with the Company's management team. Based in San Diego, California, Strata is a best-in-class provider of IT services to higher education institutions. The Company offers a range of services including software implementation, cloud migration, digital transformation, database administration and ongoing support services. The Company will continue to be led by Henry Eimstad and Frank Vaskelis, who co-founded SIG in 1987, operating as its President and Founding Partner, respectively.
"We are excited to partner with Henry Eimstad, Frank Vaskelis and the rest of the management team to support the Company's next phase of growth," said Christina Pai, Partner at Fort Point Capital. "Thanks to its talented, experienced team, SIG is recognized as an industry leader in the higher education IT services market. SIG's software agnostic service offering has positioned the Company to capitalize on the increased use of technology in the higher education landscape, all while serving the best interests of its customer base. Furthermore, we believe the Company will continue to benefit from its durable, long-term customer relationships and the strong tailwinds in the broader IT services market."
"I am pleased to partner with Fort Point and excited to take SIG to the next level," said Henry Eimstad, Co-Founder and President of Strata, on behalf of the Company's management team. "We believe Fort Point's extensive background investing in service-oriented, technology businesses combined with its focus on partnering with management teams will be extremely valuable to SIG."
"Over the past several years, Strata's customer retention has been extremely impressive which is a testament to the value the Company creates for its customers. Fort Point's investment in Strata epitomizes our firm's strategy of investing in and acquiring niche leaders that we believe can benefit from our operating and transactional expertise," said Brooke Ablon, Partner at Fort Point Capital.
"We look forward to supporting Strata's growth initiatives, including investing in the Company's organic growth as well as pursuing an add-on acquisition strategy," said Michael Brofft, Vice President at Fort Point Capital.
Strata is Fort Point's eleventh platform investment and third investment in FPC Small Cap Fund II. Fort Point has closed six transactions over the past twelve months and recently announced the exit of one of its portfolio companies.
The Huntington National Bank provided debt financing for the transaction; Kirkland & Ellis and RSM advised Fort Point while Solganick & Co., Procopio and West Rhode & Roberts advised the Company.
About Strata Information Group
Strata Information Group (SIG) assists colleges & universities with IT initiatives that enhance services to students, faculty, staff, alumni, and the community. SIG is one of the largest privately-held providers of technology support and services to higher education. For more information, go to: https://www.sigcorp.com/
About Fort Point Capital
Based in Boston, Massachusetts, Fort Point Capital is a private equity firm that invests in lower middle market, business services companies in partnership with strong management teams. For for information, go to: https://www.fortpointcapital.com/
 About Solganick & Co.
Solganick & Co. is a data-driven investment bank and M&A advisory firm focused exclusively on software and IT services companies. With offices located in Austin, Dallas, Los Angeles, and San Francisco, the firm provides technology-focused M&A advisory to fast-growing and established companies. Its deal team has completed over $20B in transactions to date. For more information, go to: https://solganick.com or contact us.