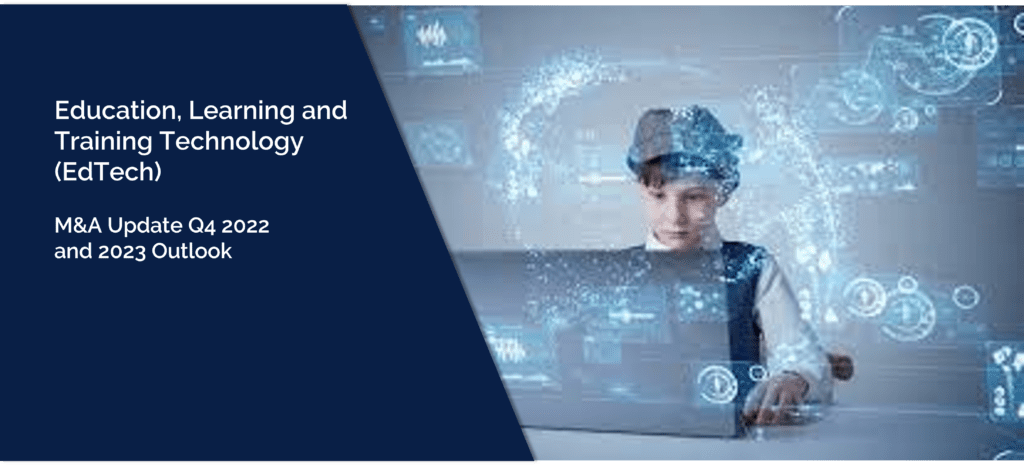 January 30, 2023 – Solganick & Co. has issued its latest M&A Update report for the Education, Learning and Training Technology (EdTech) sector, summarizing Q4 2022 and 2023 outlook.
Mergers and acquisitions in the EdTech industry have been on the rise since 2020 yet cooled off in 2022. A few notable mergers and acquisitions include BrightChamps acquiring Education10x, CollegeDekho acquiring Getmyuni and IELTSMaterial, and GoStudent acquiring UK-based Seneca Learning and Spanish. Despite the ongoing downturn, edtech has seen a surge in M&A activity with 26 edtech startups being acquired since 2020. However, the pace of M&A activity has cooled from its sizzling pace set in 2021 through 2022.
Mergers and acquisitions in the EdTech industry are expected to increase in 2023. The Edtech industry has seen a significant increase in M&A activity in recent years, with many companies looking to acquire startups or smaller companies that have developed innovative technology or products. The COVID-19 pandemic has also accelerated the adoption of digital and online learning tools, leading to increased interest in edtech companies and further driving M&A activity.
After sharp declines in equity funding in education and a 66% drop in mergers and acquisitions during 2022, the year ahead is expected to bring further consolidation and see more listed education groups go private. EdTech companies are being acquired by traditional education companies as well as by larger technology companies looking to expand their offerings in the education space. The market is expected to continue to be active in M&A in the near future as the trend of digitalization and virtual learning will be the new norm in the future.
70 of the 213 deals during the first half of 2022 were financed by private equity, venture capital, or some other type of investment firm, a 14 percent decline compared to the same period a year ago.
3 in 10 Education Companies Secured Venture Capital or Made Acquisitions Over the Last Year.
According to Grandview Research, the EdTech market recorded $127B of global revenues and is expected to grow to $429.5B in 2030, with a 5-year CAGR of 16.5%.
Key factors driving the EdTech market growth include penetration of digitization in the education sector, growing adoption of EdTech tools by both academic and non-academic sectors, the proliferation of smart devices, and seamless internet connectivity.
To access the full report, go here: Solganick – Edtech MnA Update Q4 2022
For more information on Solganick & Co.'s EdTech M&A group, please contact us.