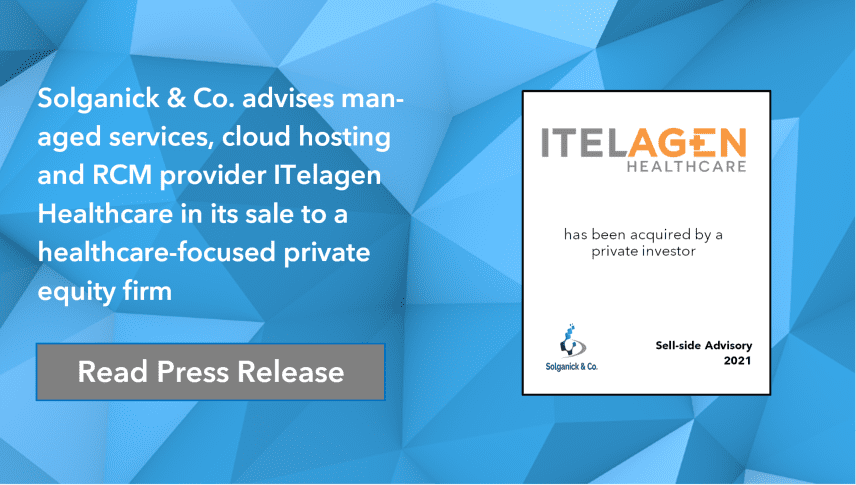 Itelagen Healthcare Completes Sale
July 20, 2021– Solganick & Co, a leading Investment bank and M&A advisory firm serving the technology and IT services sectors, announced today that it served as the exclusive financial advisor to ITelagen Healthcare in its successful sale to a healthcare-focused private equity fund (name undisclosed). 
Founded in 2005, ITelagen is a leading healthcare managed services organization providing medical billing, white-glove EHR application support, cloud hosting and IT support services to medical practices nationwide. ITelagen is an MSO partner to both NextGen Healthcare and athenahealth. 
The Transaction closed in March. Financial details remain undisclosed. 
About ITelagen Healthcare 
ITelagen is the EHR success company. ITelagen delivers integrated services and comprehensive expertise that help providers improve clinical, financial and operational outcomes through EHR and healthcare technology. The company's proven approach, based upon over 15 years of experience, actively and securely integrates the EHR with people, data and workflows to increase productivity, reduce risk and enhance patient care. Learn more at www.itelagen.com
 About Solganick & Co.
Solganick & Co. is a data-driven investment bank and M&A advisory firm focused exclusively on software and IT services companies. With offices located in Austin, Dallas, Los Angeles, and San Francisco, the firm provides technology-focused M&A advisory to fast-growing and established companies. Its deal team has completed over $20B in transactions to date. For more information, go to: https://solganick.com  or contact us.