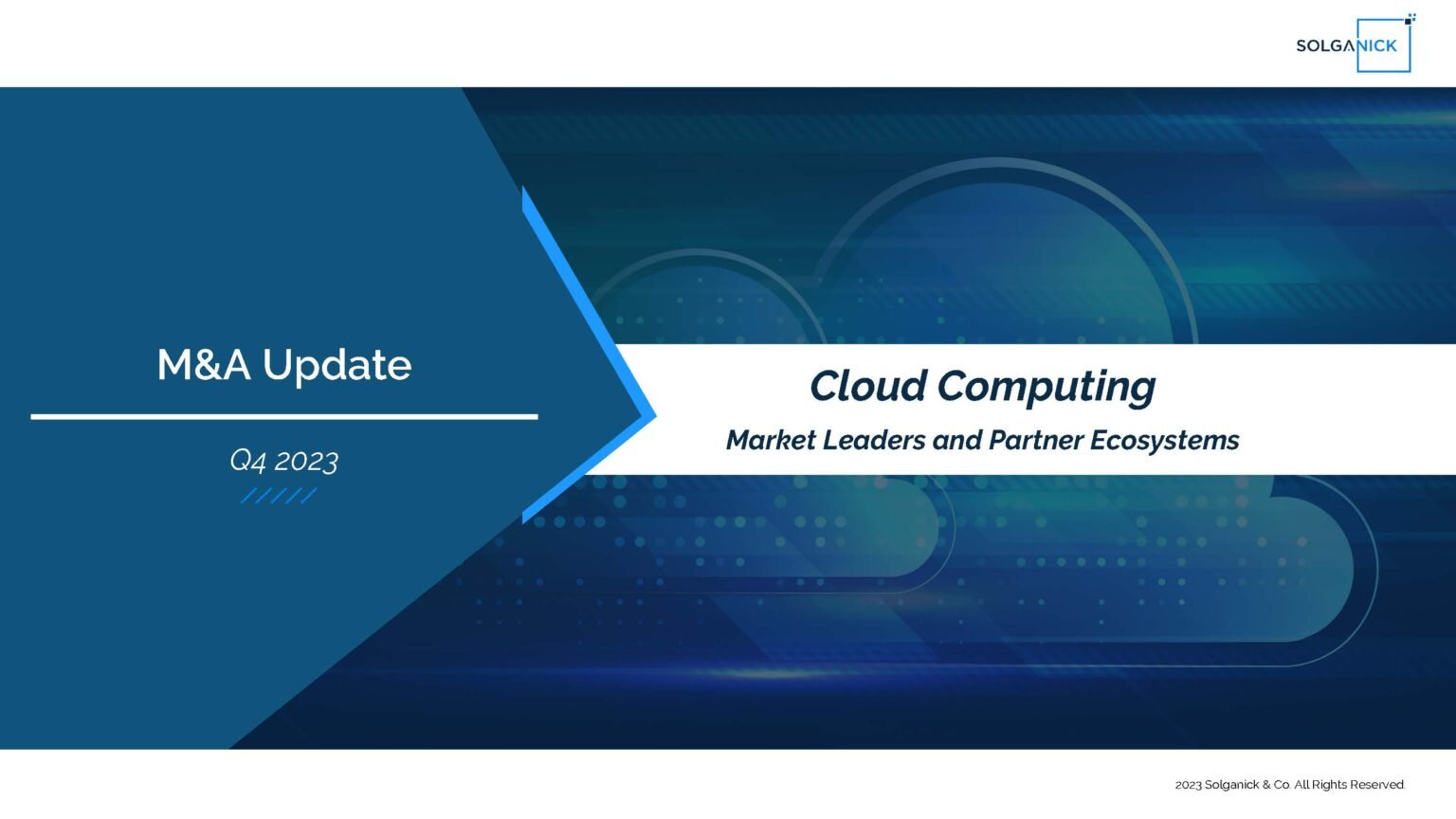 November 6, 2023 – Solganick & Co. has published its latest mergers and acquisitions (M&A) update on the Cloud Computing sector. It covers relavant M&A transactions within the cloud partner ecosystem including AWS Cloud, Google Cloud, and Microsoft Intelligent Cloud/Azure (and others).
You can download the full report here:  Solganick Update – Cloud Computing (Nov 2023)
The following summarizes the report:
Overall, cloud computing companies continues to remain in high demand among both strategic and financial buyers. Year to date 2023 has recorded several M&A transactions in the ecosystem.
In recent years, Amazon Web Services (AWS), Microsoft Azure, and Google Cloud have matured and expanded their offerings, with cloud services segments now representing significant parts of each company's overall business profile and defining their future growth aspirations and success.
Buyers continue to seek companies with a strong relationship with their partners, often placing a premium valuation for investment opportunities involving a differentiated service offering and profile. All of the leading cloud vendors rely on their partner networks to sell and implement their products and ensure customer success via the availability of related professional services. Demand among strategic and financial acquirers for cloud partners continues to grow, with considerable levels of capital available to deploy towards M&A in the coming years.
AWS Cloud
AWS Q3 2023 revenue was reported at $23.1 billion, a 12% YoY increase, but slightly lower than analyst expectations of $23.2 billion.
The AWS business unit generated $7.0 billion in operating income, up 29% and considerably more than the analyst consensus of $5.6 billion.
Amazon's entire business generated $11.2 billion in operating income, thus the AWS operating margin expanded to 30.3%, the widest in two years.
Google Cloud
Google Cloud's Q3 2023 revenue rose 22.5% to $8.4 billion, the slowest growth in eleven quarters (since early 2021), and missing analyst expectations of $8.6 billion.
The cloud unit reported an operating income of $266 million, compared with an operating loss of $440 million a year ago, showing margin improvement.
Microsoft Intelligent Cloud/Azure
Microsoft Intelligent Cloud Fiscal Q1 2024 revenue was reported at $24.3 billion, showing 19% quarterly growth, and above analyst expectations of $23.5 billion.
Revenue just from Azure jumped 29% during the quarter, higher than the 26% consensus among analysts.
Publicly Traded Valuation Table: Cloud Computing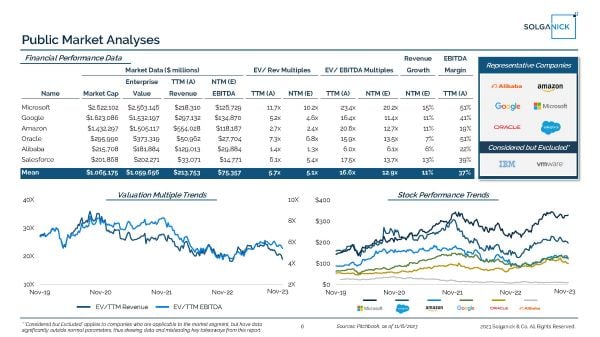 Solganick noted a number of M&A transactions in the above partner ecosystems in the report.  One of them was AWS Premier Partner, Nextira (formally Six Nines IT), in its sale to Accenture. Solganick was the exclusive M&A advisor to Nextira.
About Solganick & Co.
Solganick is a data-driven investment bank and M&A advisory firm focused on the software and technology services sectors. It covers cloud partners including AWS, Google Cloud, Microsoft, Oracle Cloud, and others. For more information, please
contact us.