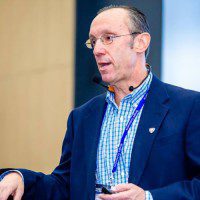 March 22, 2021 – Solganick & Co. has hired Russell Hertzberg as a managing director in its software M&A team.  Mr. Hertzberg will be responsible for origination and execution of M&A transactions within the software and tech-enabled services industry sectors globally.
Mr. Hertzberg joins Solganick after a successful career in senior executive operating roles within the software sector.  Prior to joining Solganick, Mr. Hertzberg was Vice President of Technology Solutions with Prime Care Technologies, a fast-growing healthcare IT services firm where he was responsible for management of the software group, consisting of 60 developers in 4 locations on 2 continents. Previous, he was Vice President of Technology Solutions for SoftServe, a global software development firm, providing senior level consulting delivery services for SaaS/Cloud, E-commerce, HealthTech, Dev Ops, Big Data, Mobility, and Security solutions.
Mr. Hertzberg currently serves as a Board Member and advisor to several software and software development companies, including Apriorit PE, Skein Group, and Liquid Sports.

Mr. Hertzberg earned a BA in International Relations from Brown University and has completed post-graduate studies at the UCLA Anderson School of Management.
For more information, please contact Russell Hertzberg, Managing Director at [email protected]